K9 Search Response In The Era Of COVID-19
COVID-19 is sweeping across the nation and around the world at an alarming rate. Information is coming at us every moment of every day. It's easy to become overwhelmed when data is constantly changing. One thing that will not change during the pandemic is that people will continue to go missing; hikers will get lost, homicides will occur, and natural disasters will strike.
For The K9 Handler
We can't control any of these crises or natural disasters. They will happen regardless. What we do have control over is making sure that we and our teams are prepared so that we are able to respond safely.
First and foremost, this means staying healthy so that we can respond when needed. Follow the local, state and federal guidelines that have been issued, including what we have all been hearing for the past several weeks:
Stay home and avoid discretionary travel, unless you work in a critical job or need to make an essential trip for groceries or prescriptions.
Disinfect surfaces frequently.
Wash your hands and do not touch your face.
Maintain a social distance of at least 6 feet anytime you have to leave your home.
What has been stressed by all levels of government is to get outside, if you are feeling well, to exercise. This is especially critical for us and our K9 partners! We need to be outside maintaining our physical and mental health and continuing to train (within the parameters of issued safety restrictions) so that we are ready for the next call.
For The Organization/Team
As an organization, now is the time to review your current Standard Operating Procedures (SOPs). The health and safety of your members should be your #1 priority. If you are an organization or individual that responds to criminal cases or disasters, you are already accustomed to working in hazardous and sometimes unsanitary environments. The COVID-19 virus is pushing this to the extreme.
We are being cautioned to behave as if everyone we encounter has the virus, even if they aren't showing any symptoms. Not to mention the uncertainty about how long the virus can remain viable on various surfaces.
Questions Your Organization Must Considering
Do we have the proper PPE for our members to maintain their health and safety during a response?

If you are working in a wilderness environment and are able to maintain a safe social distance your chance of exposure may be low.
If you are working a residence or building where people frequent, you should treat every surface and person in the structure as contaminated and wear appropriate levels of PPE.
Don't rely on the requesting agency to have extra PPE for you as their supplies are already likely stretched during this time.

Are all of your team members properly trained in the storage, use, decontamination, and disposal of PPE?

This may be a good time to conduct a virtual refresher training.

Have your team members been fit tested annually for any respirator that they may need to wear to safely perform their assigned task?

If not, for their safety and those they may come in contact with, they should not respond

What is your procedure for a team member that may have been exposed to COVID-19 during a search operation?

Your local and state health departments should have guidance on the steps to take including how to report the exposure, where to get tested, and what criteria must be met to get tested.

Are you prepared to decline a search request?

If you do not have the proper PPE to protect your team, you need to discuss this with the authority requesting your assistance.
If you are being requested for a cold case, determine if this is time sensitive or could it be delayed until the pandemic restrictions are lessened or removed.
Resources
Here is a list of useful resources to help stay current on the latest guidelines and to make sure you, your team, and your dog stay safe.
K9-Specific Considerations
Leading health agencies have stated that at this time it is not believed that dogs can get COVID-19 so they will not become ill from the virus. However, with so much uncertainty about how long the virus can survive on surfaces, your dog could potentially transfer the virus on their coat, paws or mouth to you or someone else.
Prevent people on the scene from petting or touching your dog.
Be prepared to do a gross decontamination in the field and a more thorough decontamination once you have access to a hose or bath.

You should be using a Povidone scrub which is virucidal and bactericidal.
Decontamination should include leashes, collars, dog beds, crates and anything the dog comes in contact with.

Be prepared to decontaminate all of your clothing, footwear and gear that may have come in contact with your dog.
Training
If you've been following CFTE, you know we are huge proponents of distraction training. Most of us are already doing some amount of distraction training, but have you considered...
What if YOU are the distraction?
Have you exposed your dog to you wearing full PPE? Think about it, when you are wearing gloves, eye protection, a respirator and Tyvek, you look, sound and smell different. You don't want to respond to a callout and have your dog experience you or other people on scene wearing PPE for the first time.
Exposure to working with you while you are wearing PPE should be incorporated systematically in your training. Once social distancing restrictions are lifted, you should expose your puppy to other people in close proximity in full PPE as well.
We are going to show you the process we use to desensitize our dogs so they are able to confidently working searches with us in full PPE. We'll show you how we start puppies, give you exercises for more experienced dogs, and offer challenges for your advanced seasoned dogs.
Click below to begin this training today!
Ready For Your FREE Training?
Start training today with these specific exercises critical to you and your dog's safety and success searching during the COVID-19 pandemic (or any other hazardous environment).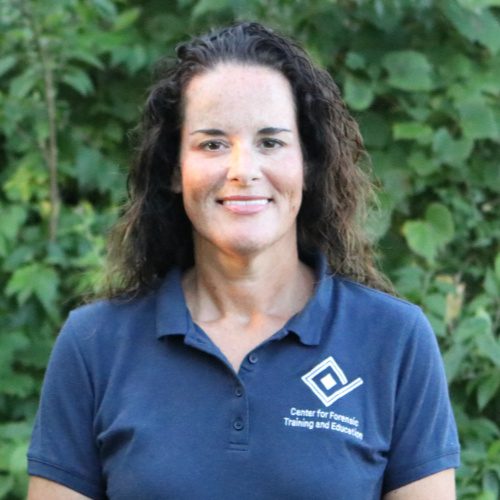 Deana Hudgins, CFTE Founder, has been working in Search and Rescue since 2002. She is the Executive Director and a Founding Member of Ohio Search and Recovery Canines. She is also a Canine Search Specialist for FEMA Ohio Task Force 1 working both human remains detection and live find canines. She has traveled the country as an instructor, evaluator, and facilitator for search and rescue classes and workshops. Deana specializes in human remains detection; water, land and disaster, as well as wilderness and disaster live find. She has responded to hundreds of missing person searches for local, state and federal agencies. She frequently consults as a subject matter expert for large scale training exercises and cases, providing guidance in search strategy and planning, resource management, mapping and data collection. During her years as an instructor, Deana repeatedly saw that there was a lack of resources and training opportunities to fully prepare agencies to respond to search and recovery missions. She established the Center for Forensic Training and Education to ensure that any organization involved with the search and recovery of missing persons has access to real world, hands on, custom training opportunities.